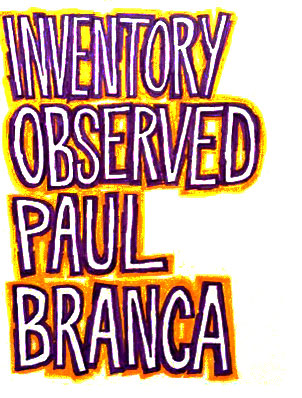 PAUL BRANCA /// Inventory Observed
Two tote bags repurposed as oil on canvases hang from above. Their function shifted from the ubiquitous light portable sack of which to carry things into stretched supports of which to paint things upon. Wide open eyes are represented, their gaze continues ad infinitum. Puffy bags form mishapenly from under the reddish eyes as fatigue sets in either from looking too much and doing too little. Nuts.
The artist as thief, as shoplifter, as accumulator, as representer finds solace in looking twice or even three times out at subjects which accumulate before his eyes and desperately need a place to go. An inventory is formed as former actors are reassigned as signs. Nuts.
Still lifes upon tables of a rich pink color holds groupings of objects. On the first one three hyper-colored sausages, speckled in flecks of primary colors, convene. Seeming flaccid and limp, one of them is pointing upwards, slightly erect, is in need of sleep as they have just performed their duties. While an artichoke casts a pearlescent shadow of a profile from a distant past. The following table supports rendered apples in bright primaries in sizes: small, large and extra large, their scale in relation to each other and colors point to a staged artifice of signs. Nuts.